Inner Farne Lighthouse

Farne Islands, Northumberland

Featured Location Guide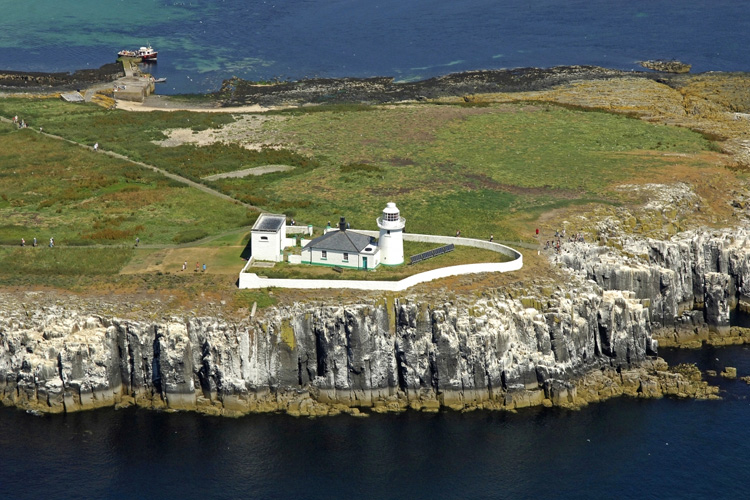 Aerial photo by Marinas.com

The Farne Lighthouses
We have a more general location guide to the Farne Islands,

this looks at the wildlife and visiting the islands.
The islands had, at times, 4 lighthouses, two of which survive and are in use today, the one covered on this page known as Inner Farrne and Longstone Lighthouse,

also known as Outer Farne, one of the outer Staple Islands.
Historically two others have also existed one on Staple Island

and another on Brownsman's Island, the second being built when the first was destroyed, so really a relocation, neither of these are now in use. We cover both of these in the location guide on Staple Island.

Later a new lighthouse was built on Brownsman's Island, and later moved to Longstone Island. Longstone Lighthouse

is most famous as the scene of the Forfarshire wreck and the exploits of Grace Darling, a daughter of the keeper in charge.
The current Inner Farne lighthouse was built in 1811, although there had been one here since 1673.
A fifth smaller lighthouse also existed at one point on the opposite side of Inner Farne.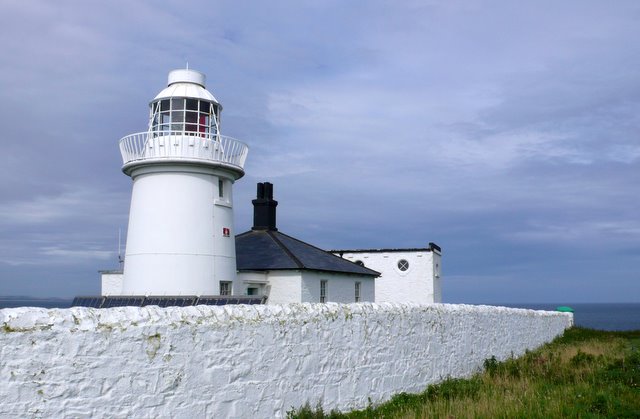 Inner Farne lighthouse, generally now called Farne Lighthouse


Photo by Nigel Mykura

Inner Farne Lighthouse
The current Inner Farne lighthouse we see today was built in 1811. Designed by Daniel Alexander, it is a squat, compact station, with a circular white tower 13 metres in height. The lantern and gallery with its closely strutted railings was installed with reflectors and Argand lamps.
The keepers' cottages were placed just to the rear of the tower, and the whole station is surrounded by a stone wall.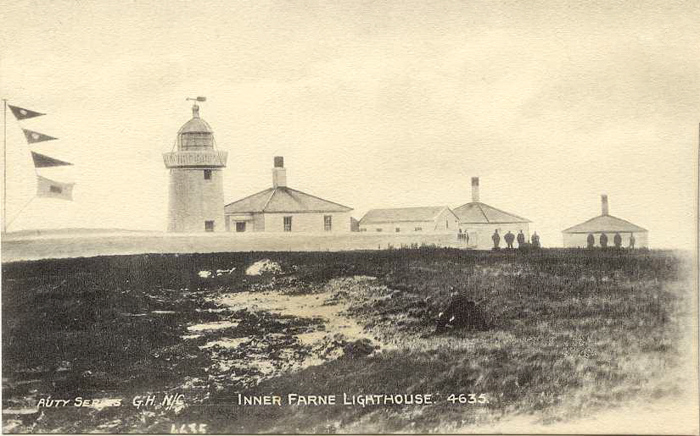 We can see from an old postcard, based on a sketch that Inner Farne used to have a number of light keepers houses, the lost buildings would be to the left in the aerial photo above, or right of the photo directly above.
At the same time, a smaller light tower was constructed on the north west point of the island, 152 metres from the other lighthouse. The white tower displayed a fixed white light.
In 1825 Trinity House bought out the lease from the Blacketts for the Farne Lighthouse for £36,484.
In 1910 the smaller Farne light was discontinued and the present lighthouse was converted to automatic operation with an acetylene light controlled by a sun valve. This remained in operation until the Farne Lighthouse was modernised and converted to solar powered operation in late 1996.
The station is now controlled and monitored via a telemetry link from the Trinity House Operations Control Centre at Harwich in Essex.
In 2005, the National Trust paid £132,000 to purchase

the lighthouse from Trinity House.
---
The History of Lighthouses on the Farne Islands.
Off the coast of Northumberland lies a group of islands, some call the Staple Islands, but also known as the Farnes, because the largest and nearest to the mainland is Farne, now known as Inner Farne. These islands, are in the main deep water coastal shipping lanes and make navigation in the area hazardous.
In 1673, Sir John Clayton erected a tower on the Farne Island as part of his comprehensive scheme for the East coast, along with 3 others including Cromer Lighthouse,

Flamborough Head

in Yorkshire, and Corton near Lowestoft. For the history of this see the location guide on the Cromer Lighthouse.

His lighthouse was a light on a tower of an existing 4 storey castle, now largely in ruins and known as Priors Castle Tower,

it is included in the photo below.
Collecting dues from influential Newcastle merchants, who refused to pay him any dues for its upkeep, was difficult and the fire was never kindled. Proposals were again made in 1727 by coastal traders in the area, but little was done for another 50 years.
In 1776 an agreement was made between Trinity House and Mr J Blackett for him to build two lighthouses at his own expense. On 1 December 1778 two lighthouses exhibited lights, one on Farne Island and the other on the southern end of Staple Island.
The Staple Island light was blown down in 1784 and rebuilt, possibly on Brownsman's Island, the rebuilt tower was knocked down by heavy seas in 1800 and at that time was definitely rebuilt on Brownsman's Island.
In 1809 the two towers, both coal lights, were decaying and arrangements were made for Trinity House to take them over and install new lights.
In 1811 the present Farne Lighthouse was built, and at the same time, a smaller light tower was constructed on the north west point of the island, 152 metres from the other lighthouse. This white tower displayed a fixed white light.
A new oil powered lighthouse was also built on Brownsman's Island. In 1826 this was moved to Longstone Island.
Today you can see the Inner Farne lighthouse, and visit the Longstone Lighthouse,

there are boat trips daily to the islands most of the year, most visitors are doing so to see the birds and other wildlife. In the aerial photo at the top of this page you can see a boat on the opposite side of the island and tourists walking on the island.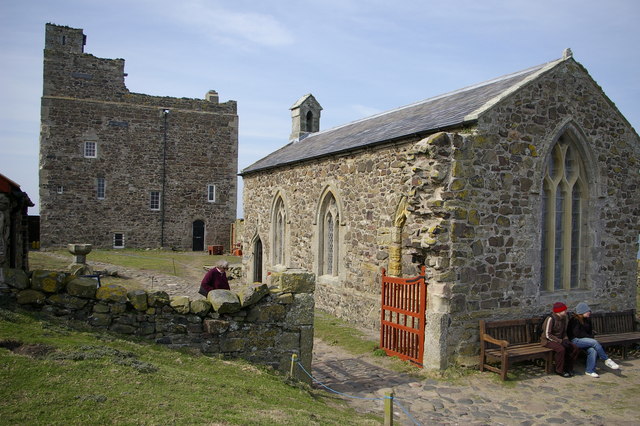 Photo by Phil Champion

The photo above shows other buildings on Inner Farne, the Chapel of St Cuthbert and Prior Castell's Tower (site of first light). The tower is named after Thomas Castell, Prior of Durham (1494-1519) and was probably constructed c.1500, and was used by Sir John Clayton as the first lighthouse. St Cuthbert's Chapel dates from c.1370.
---
Lighthouse information Grid

Name:

Inner Farne Lighthouse, Farne Islands, Northumberland

Current status:

Working

Geographic Position:

55 36'.93 N 01 39'.25 W

Grid Reference:

NU217358

Ceremonial County:

Northumberland

Appearance:

Round brick tower with lantern and gallery, painted white, attached to 1 storey keeper's house.

Map Link:

Aerial photo:

Marinas.com Marinas.com - more images of island

Multimap Google satellite view

Other photos:

Geograph

Originally built:

1673

Current lighthouse built:

1811

Height of Tower:

13m 43ft

Height of light above mean high sea level:

27m 89ft

Character of light:

2 White And Red Flashes Every 15 Seconds

Character of fog signal:

Range of light:

White 10 nautical miles, red 7 nautical miles

Owned / run by:

Owned by National Trust run by Trinity House

Getting there:

Access:

Website:

TH

Other Useful Websites:

WiKi

National Trust (Farne Islands National Nature Reserve)

boat tours from Seahouses

Routes:
Other Relevant pages:

Notes:
Please let us know any other information that we can add to the Grid or page and any errors that you discover. Before making a long trip to any location it is always wise to double check the current information, websites like magazines may be correct at the time the information is written, but things change and it is of course impossible to double check all entries on a regular basis. If you have any good photographs that you feel would improve the illustration of this page then please let us have copies. In referring to this page it is helpful if you quote both the Page Ref and Topic or Section references from the Grid below. To print the planning grid select it then right click and print the selected area.
Please submit information on locations you discover so that this system continues to grow.